All academic institutions have to hold a high level of cleanliness because such properties have to accomodate large amounts of people for most of the day, every Monday through Friday. Regardless of the age students can always manage to create a mess, therefore it is essential that the cleaners main task is to clean the floors and all flat working surfaces. However, a regular cleaner at a school cannot keep up with the maintenance of all interior and exterior elements, especially those that are out of reach like school windows. Having years of experience in cleaning educational facilities we are here to help with your requirements.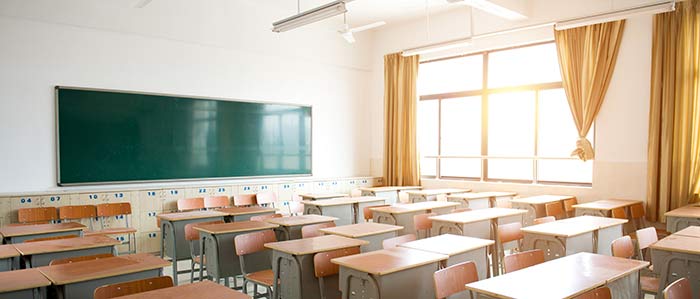 "The London Window Cleaning Company" knows the correct approach to clean school windows efficiently, without disturbing the working process of the staff, faculty and student body. Our team of professional window cleaners has already gathered quite a bit of experience providing such services for significant public institutions.
---
School window cleaning services
in London
Cleaning school windows is a staple chore which contributes to the overall great state of maintenance of the entire building. Not only does it amplify the look of the material base the institution can offer to its students but this not so simple task also shows that the sanitary needs of the school are met.
Our school window cleaners are equipped with almost all possible window cleaning tools that could come in use in unexpected circumstances. Our most important and used window cleaning piece of professional equipment is the Reach and Wash system, which is installed in our company's private vehicle. It is designed to hold as much as 650 litres of purified water, but the most significant part of the system is definitely the water fed pole, that can reach glass canopies and windows, which are 65 ft. high. Thanks to that feature, the school window cleaners can successfully operate on external window glass, without walking up and down the school floors in an attempt to clean all windows – they simply set up the system outside the building and work without disturbing the academic process inside the classrooms.
For the inside part or the windows, we always use professional window brushes, squeegees and additional supplies like microfibre pads. Not only is the window glass spotless after we complete the service, but all the other elements of the windows like heads, frames, sills and linings are perfectly cleaned, too. Unlike a regular person doing this job, our cleaners are able to complete the task without having to fail, to succeed.
Benefits of a professional window cleaning service
---
Book a school window
cleaning service
If knowledge is the ultimate shining light in one person's mind, then it is only right to make sure that the barrier, which lets that illumination enlight us, is not in a state of blocking it. Clear vision and a free stream of consciousness are what helps scholars make their way through academia and the environment you try to gain expertise in is of great importance to the workings of the brain.
Every school in Central or Greater London deserves to be able to provide its students with a safe and nourishing environment, which would help not only their minds welcome the light of knowledge, but also allow actual sunlight come effortlessly through the glossy surface of the window glass, without being interrupted by smudges and dirty spots.