Most business owners know that regular floor cleaning, dusting and maintaining all appliances are what would keep their commercial space tidy and neat. However, they all seem to postpone or simply neglect their window cleaning chores, especially if they don't serve as retail units. This lack of regular window cleaning most often results in putting potential clients off. Of course, when you're just walking down the street in search of a nice restaurant most often you would first notice the exterior appeal of the place. It can either be a hit or miss, if dirty windows and canopies are your first impression of a place you expect to have a delicious meal at.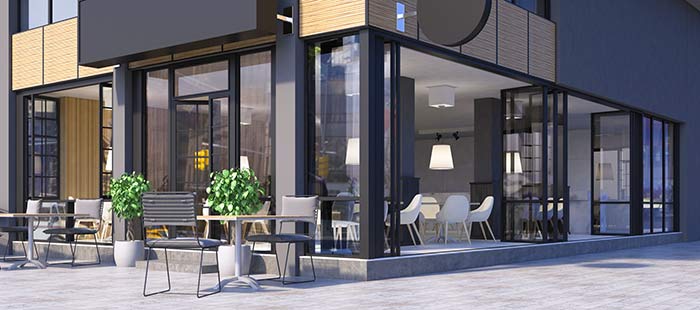 "The London Window Cleaning Company" is the one service provider a restaurant owner would need to reach out to, in order to transform the look of its windows. Our professional window cleaning services would be the cherry on top of the cake for dining space that needs some extra appeal polishing.
---
Professional restaurant
window cleaning service
Welcoming any restaurant customer in a proper manner is what would make them feel that it was the right decision to enter exactly in your establishment. You should never underestimate the sanitary condition of your restaurant's windows because they are an example of how you treat the environment in your commercial premises. As asoon as you create an efficient window cleaning routine, the easier it would be to maintain the shiny look of the clean windows.
How do we clean commercial windows?
When our professional window cleaners have to operate on a business establishment of any sort, whether it would be a restaurant, a pub or a deli, they always prepare themselves with traditional window cleaning equipment as well as more advanced tools like water fed poles.
Our window cleaning company's secret weapon is the Reach and wash system, which enables us to clean high windows, without even entering inside the business spaces. Thanks to the 650 litres reservoir of purified water we have installed in our commercial vehicle and the water fed pole, attached to it, a window cleaner of ours can deliver an excellent service. The constant flow of clean water helps eliminate dirty spots and leaves the surface streak-free. With the help of our Reach and wash system we can also clean any – canopies, signs and other facade pieces, which are part of the establishment's exterior.
The inside part of the windows is treated with the rather traditional window cleaning tools like a professional window brush, a professional squeegee, microfibre towels, etc. The window cleaners will not only leave the glass part of the windows spotless, but will always make sure to clean the sills, the frames and all the elements a certain window type could have.
---
Restaurant window cleaners
in London
If you run a restaurant and you care about its decent upkeep then having the windows cleaned shouldn't be the last chore you think about completing. Having such services regularly performed is going to improve the overall appeal and level of sanitation of the entire establishment. This would then indicate that the reception at your restaurant is just as good as the conditions of the exterior and interior part of it.