"The London Window Cleaning Company" is a trustworthy window cleaning service provider, which has a great deal to offer to all those who want to hire professional window cleaners, whose skills and expertise will fulfil any business owner's expectations.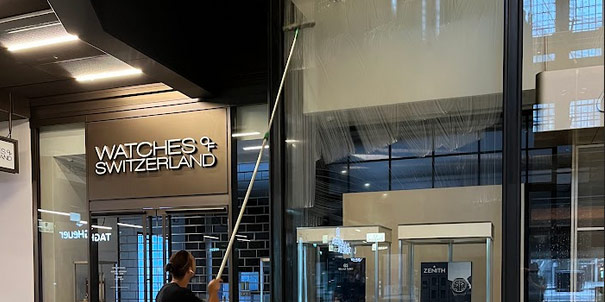 ---
How do we perform
the commercial window cleaning services
Depending on the type of windows and the height of the building, our commercial window cleaners are prepared and eqipped to perform the cleaning procedure that will be most effective, without violating the health and safety legislation. Our commercial window cleaning team can conduct:
Traditional window cleaning
When the window cleaners are set to clean the part of the window that is on the inside or work on windows which are on the ground level of the building, they are using the traditional the traditional methods of cleaning vertical glass surfaces. But what distinguishes professional window cleaning service from the average job a non-specialist will do, is the level of competence and the attention to detail. We complete the procedure by using a squeegee, a window cleaning applicator and eco-friendly window cleaning products which will ensure streak-free windows.
On what type of commercial properties do we operate?
"The London Window Cleaning Company" will gladly serve any business needs, so if you run:
you should definitely take advantage of our commercial window cleaning services.
---
Professional Commercial window cleaners
near me
Establishing a business in London is way harder than it seems, but what makes it so challenging is to keep going forward and making sure that your working space is not only in a decent condition, but that it is welcoming and resonates with the atmosphere most clients prefer.
"The London Window Cleaning Company" is here to help bring back the glossy shine your bookshop, your restaurant or your office windows had! Give us a call on 020 3026 5489, to book a commercial window cleaning service with our company and enjoy the aftermath of impeccably spotless views.